My ongoing series Words From Dad provides an experimental exploration of my Dutch-Chinese heritage as it retells the story of my grandfather whom I never knew.
With the use of archival images from my personal family albums, I trace back my mixed roots through my grandfather's life stories as told by my dad, in his own words.
I am originally from The Netherlands. I am Dutch and a quarter Chinese. My grandfather Tek Suan Chen was born in 1910 in Wenzhou, China. He was a dignitary and the Chen family were judges and landowners there. Everything had been taken away from them, their possessions and their lives. The whole family was killed by the communists during the Mao Revolution. My grandfather was the only one who survived together with his teacher and cousin Bun Chen. He was just 23 years old when he fled, as a student, from Wenzhou to Europe, via France to Germany. Due to the political consequences of the war he eventually ended up in The Netherlands where he met my grandmother and opened the first Chinese restaurant in the city The Hague. This then became the two biggest and most important things in his life: his family and his restaurant.
Although I unfortunately never got to meet and speak with my grandfather - since he passed away before I was born - I have always had a strong interest in the stories my dad told me about him.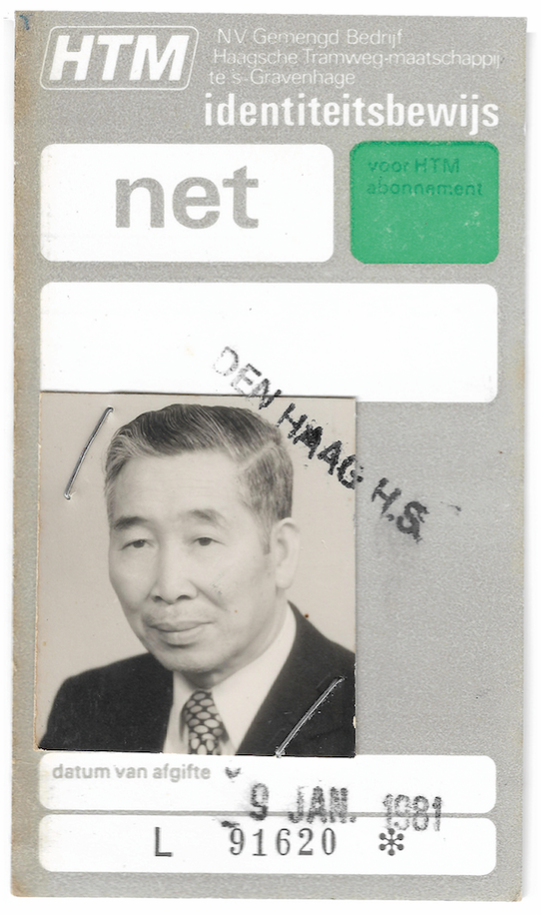 The manufacturing and application of analogue photomontage techniques such as weaving is used metaphorically to depict the fragmentation of my family memory, as well as to portray my grandfather's experience of having to adapt to a new (Western) culture, and the multicultural upbringing he gave my dad. Reworking the family portraits, I manually cut and stitch multiple images together, literally intertwining the different cultures and experiences, creating a fusion of their Chinese and Dutch identities.
With each fold the image becomes more abstracted - like the stories that are gradually becoming further removed from the original, each time they are retold and passed on from one generation to the next.
The story of my grandfather as told by my dad Ming Hou Chen:
"My father first started a restaurant in Amsterdam on the Rokin. In this period he met my mother Helena Blockpoel in The Hague. He then also started a wholesaler on the side in the Zeeheldenkwartier, Prins Hendrikstraat 124, The Hague. Probably to be closer to my mother. The wholesale factory supplied restaurants pots, pans, scoops, rice bales, spices and so on. Also candy, cookies, chocolate bars (famous brand Tjoklat), rolls King (peppermint rolls) and much more. It was a whole building, below the wholesale and the house above. Because my father worked in his restaurant four days a week in Amsterdam and was therefore not much at home in The Hague, he sold the restaurant in Amsterdam at urgent request of my mother. And so he only ran the wholesale business. In 1946 my mom and dad got married.
During the German occupation, Chinese were accused of being spies, just like virtually every group of foreigners at that time. It was not just accusations that my father experienced. Even before the war he wrote in all kinds of student magazines to inform his compatriots in the West about the events overseas. In such articles he expressed himself in no uncertain terms about the war between China and Japan. Developments that he followed with suspicion. His nephew Bun Chen had a radio transmitter and receiver in the back of the wholesale business and so they could follow the news closely. These were sufficient reasons for the Dutch police to accuse them of being spies and to detain both of them in prison for two days. In the meantime the wholesale trade was cleared."
I explore photo embroidery through the ancient Chinese belief of the invisible 'Red String of Fate', which encapsulates a universal story of love and destiny. According to the legend, two people connected by the red thread are destined to meet each other, regardless of time, place, or circumstances. The magic red thread - which is believed to be tied around the ankles - may stretch or tangle, but will never break. The myth is similar to the Western concept of soulmates. I believe the story perfectly embodies and perhaps accounts for my grandparents' relationship. It seems like fate; how they met as complete strangers, from different cultural backgrounds, and did not speak the same language, yet somehow ended up together. I suppose the act of love is a language in itself that speaks on a much deeper level.
With the use of red string, I create connections within the photographs, making the invisible visible.
"On the 24th of September 1947, I was born, Ming Hou Chen. Two years later in 1949, my father and his associates opened the first Chinese restaurant in The Hague, called Ling Nam, on number 95 in the Wagenstraat. The status pioneer comes to Tek Suan Chen.
The names of the associates; Chen, Yang and Tseng. Ling Nam was a phenomenon in The Hague and beyond from the moment it opened. It was known for quality and cosiness. After the retirement of the three companions, Ling Nam was sold in 1975."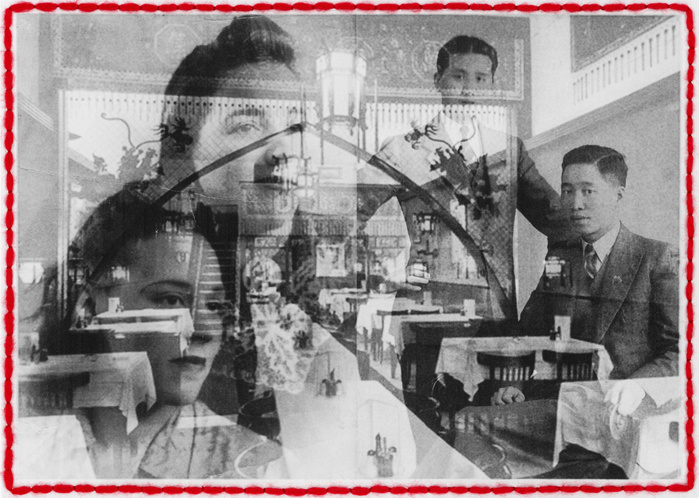 "At home as a child, I often asked my father about what it was like in China and about his childhood and family. Also whether he would ever want to go back to visit his birthplace. He never wanted that, I think because of the traumatic memories of his murdered family. His nephew Bun Chen went to visit his son Wha Hou Chen and so returned to Wenzhou. He said my father's family home, the house and the temple, are still in their original state with the same interior. In 1959 my father got the Dutch nationality. He received news from China that he could officially claim his family home, but he declined."
"My father had mastered many dialects as a student. He also mastered calligraphy with Chinese ink and brushes on original rice paper which his friends brought with them from China. As a child, I could study and observe him for hours when he was practicing his calligraphy. I tried to imitate him with brush and ink as best as I could. Very often he would paint Chinese characters for friends on paper lanes, which were glued to the inside of a restaurant window so that the painter outside could precisely copy the outlines.
He was also frequently asked by the immigration service as an interpreter and translator, because even many Chinese people could not understand each other nor understood Dutch. I thought this was very amusing as a child, because I did not understand anything of the Chinese language myself. Unfortunately, I was not raised bilingual during my childhood.
My father could write very beautifully and he mastered the Dutch language and spelling very well. It was funny when my school friends were at our home as they could understand my father with difficulty (due to his accent). It turns out I had no problem with his pronunciation, because it was a kind of second language for me that I had grown up with."
The project title also derives from a poem my grandfather wrote in a letter to my dad, which starts with him saying: "Here are some words from dad…". The poem is marked by his signature; his name stamp in red ink.
When digging through our old family albums, we found two almost identical photographs of my dad and grandfather. The pictures reveal many similarities: they're taken from the exact same position, display the same body language and facial expressions, and show them wearing the same long coat and slicked back hairdo, parted on the same side. I mirrored the images so their bodies are facing towards each other. The red string connects them.
Some of the photographs feature unfamiliar faces which still leave me with questions. A few of the prints also have short messages or descriptions with names written on the back of them in various languages that I tried to decipher, but they did not clarify or explain much.
I manipulate those images to represent this unknowingness, and the abstruse and ambiguous relationship I have with them, and those shown within them. I blur and obscure the subjects' identities through partially cutting into them, adding Chinese red seal ink paste, and overlaying them to recreate a kind of double exposure that represents this idea of a clouded, patchy memory.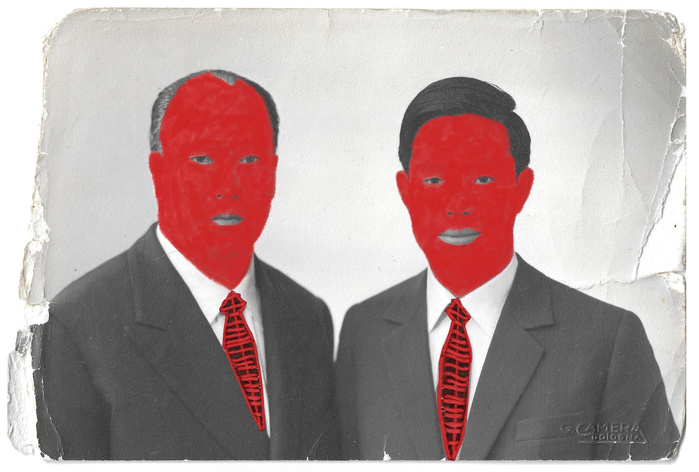 From an official document confirming my grandfather's Dutch citizenship.
It reads as follows:
"The Chinese petitioner Tek Suan Chen, mentioned in Article 1, under 2, was born in Tchekiang (China) in 1910 and has lived in our country since 1933. Partly because of his marriage to a Dutch woman, he can be considered as established. As a restaurateur, the addressee has sufficient income for himself and his people."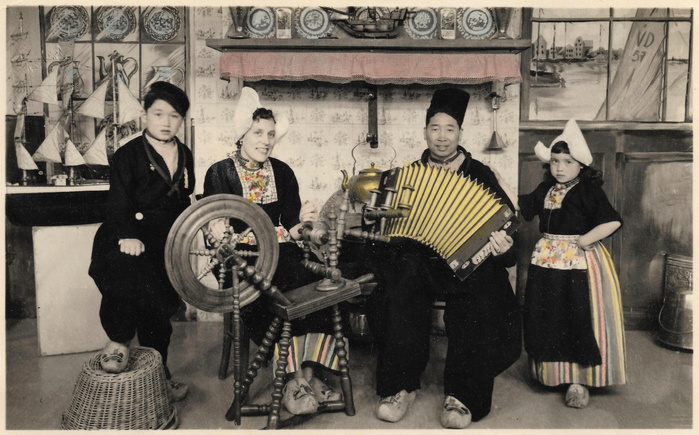 As part of the series, I also created a moving image piece that shows the aging of my grandfather, leading the spectator through a timeline of his life: his restaurant, marriage, kids.
The video ends on a slow transition between the identical photographs of my grandfather and dad at a fairground shooting gallery, showing how certain traits and appearances stay within the family. A circle of life.