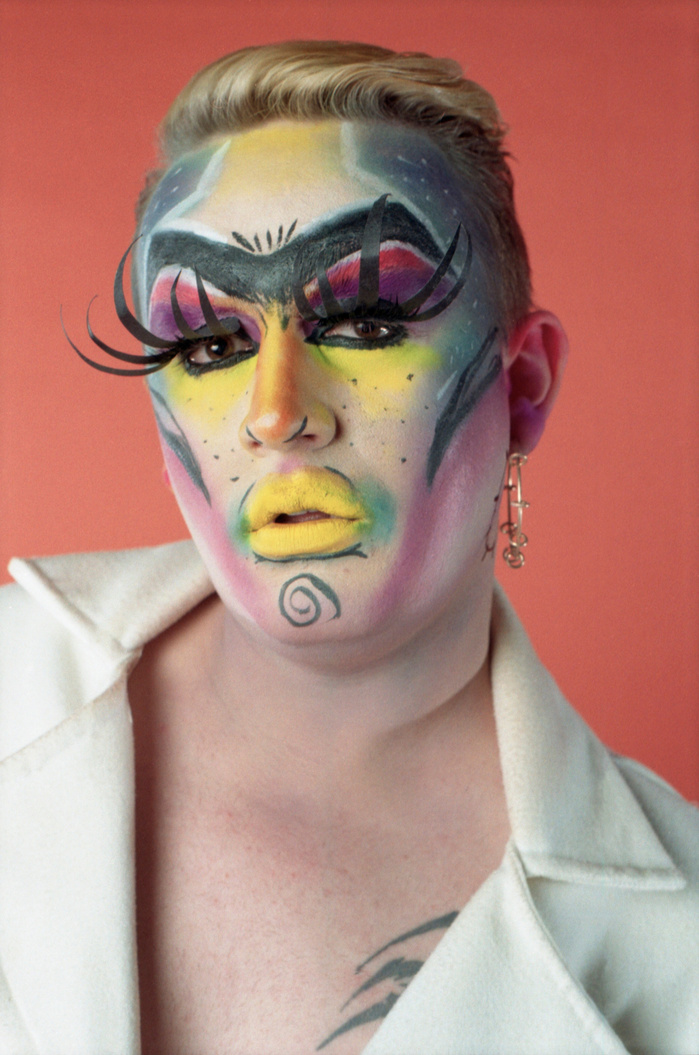 For my series Killer Queens, I have photographed 40 individuals from Birmingham's (UK) drag community; the scope and participation of which demonstrates the growth of this countercultural scene in contemporary Britain. The colourful studio portraits and black and white documentary snapshots taken in and around the city's club scene, both celebrate and explore performance and self-expression, ultimately addressing current issues surrounding identity, gender, sexuality and community to tell a strong collective story about discovery.

Fascinated by the ways in which drag artists can create endless variations of characters, in the most unique and innovative ways, I set out to document the scene. The series of consists of both digital and analogue portraits (Polaroid 600 and 35mm).
With these photographs, I aim to make aware that despite the fact that everyone is born with a specific shape and form, we have the freedom to experiment with new appearances, attitudes and identities through re-invention. We are never fully formed.

"The first time I truly encountered drag culture in the flesh was about a year ago when I first started going out in and experiencing the Birmingham gay scene. I saw that there were queens who just came out in drag for the fun of it and I realised it was something I could be a part of. Being in drag allows me to not hold back and ironically makes me more of my true self, even if I am hidden under two inches of foundation."
Teal Sparkes is a drag performer and mixed media artist.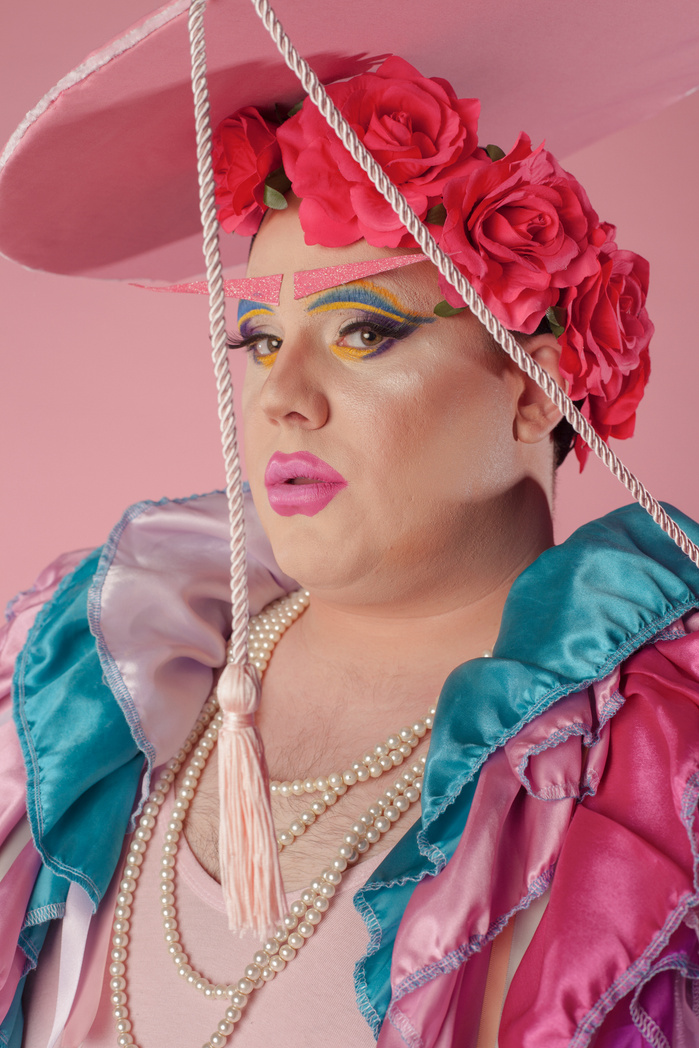 "My drag mother Queeny one day asked me to help her out at a bingo and she said "you're going to be serving pork babs to the customers" and then "I'm now either going to call you Pork Chops or Pork Pie". I was like you're not calling me either of those, they're horrible names, I hate them. And she was like "Pork Pie it is then!" Ever since that people just started calling me Pork Pie. It's stuck and now I fully embrace that name. It's ridiculous and funny."
Pork Elizabeth Pie is the stage name of Liam Patrick McGowran, a drag artist and host of The Village Inn pub in the heart of Birmingham's gay village.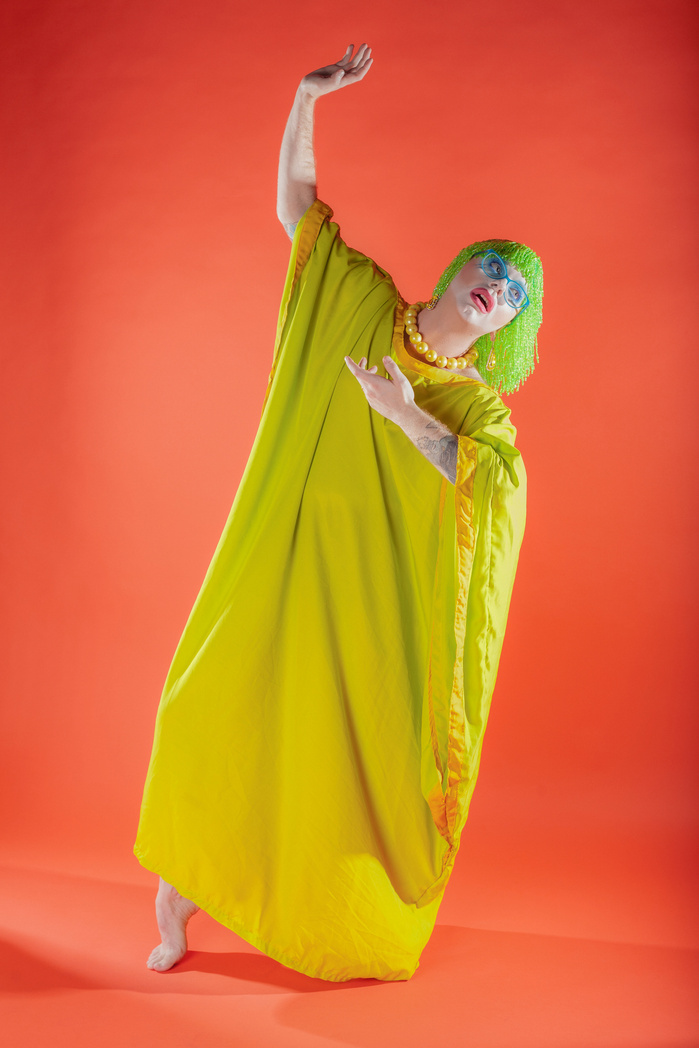 "Drag to me will always be about fun and fashion. I first started drag in 2016 as a way to escape the trauma of my sisters' death and to explore another field of art. I like to combine my hobby of collecting vintage clothes and creating music, which formed the hideous combination of Ginny. To me gender and drag are to be separate. I don't think in the male and female, it's all a spectrum waiting to be explored."

Ginny Lemon is the stage name of Lewis Mandall, a drag performer and recording artist from Worcester. Ginny is best known for competing on the second series of RuPaul's Drag Race UK.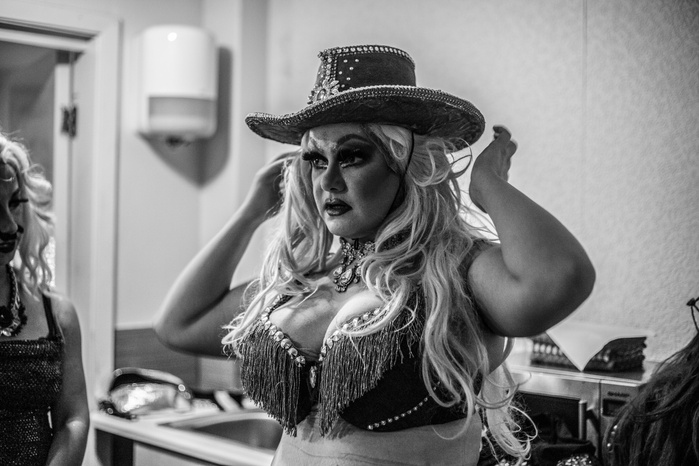 Motivated to entertain and educate, the talented artists I have worked with embrace and advocate their multi-layered identity, offering a podium for inclusion and diversity. Utilising drag as a tool to creatively question the construction and ascription of identity, they play with magnified stereotypes. If the work focusses on the drag community, ultimately, it addresses societal issues at large. Gender performativity is choreographed and acted out by everyone in our every day lives.
"I've always found drag queens to be fascinating creatures… almost otherworldly in my eyes. Drag allows me to have a holiday from myself. Once you get all the gear on, you feel reborn. I love the way you can just become someone different if you want to be. Some people see gender as black and white or blue and pink. Masculine and feminine. A man in a dress and and full makeup is going to be a statement to them, which is great because some people need to have their views shaken."
Paulette Cherry is a drag performer and song writer.

At first glance, the images may look like glamorous perfection, but on closer inspection details and imperfections draw attention to their constructed nature; the fake hairline of their wigs and the texture in their skin, coming through the surface of many layers of glossy makeup. Just like the artists I capture, I am constantly drawing attention to the artificiality and playfulness with forward-thinking aesthetics, using a drag strategy with my photography. I am not trying to disguise reality, but instead, uncover their humanity. Essentially I play with the same idea as my subjects; the disconnection between desire and reality — the person they feel like being that day, in that moment, and the person they are behind the mask.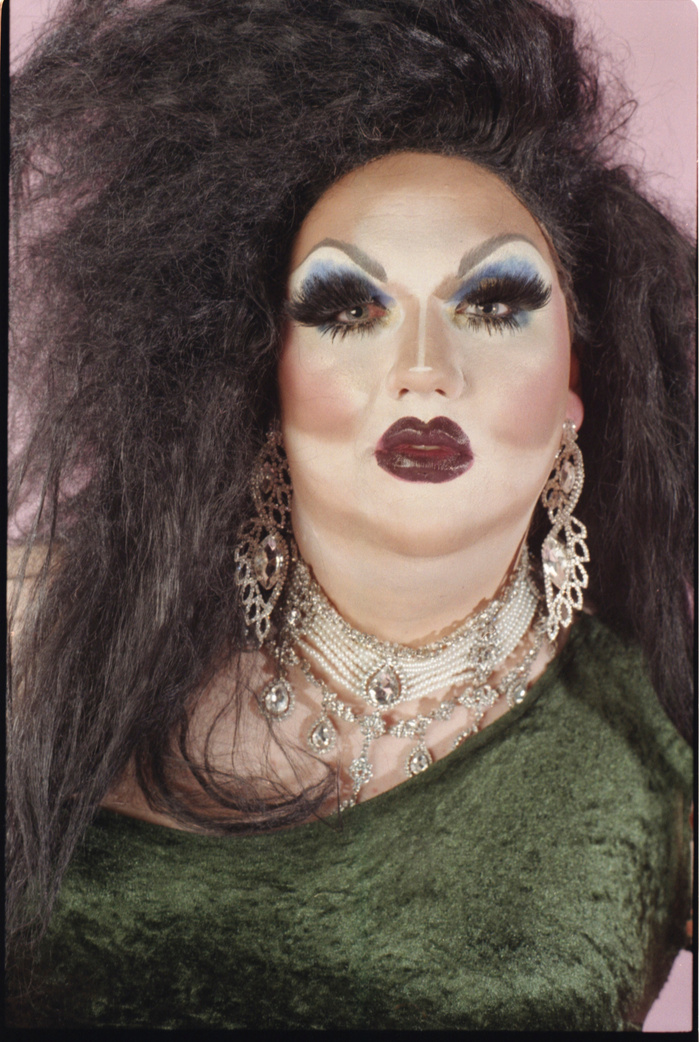 "My drag started as an outlet for experimenting with my gender-queer identity and as a much needed creative outlet post art degree in a dead end job. I make my own costumes and crochet packers, and use beefy makeup to imitate a masculine bone structure and add facial hair. My signature tash and boylesque stripping (masculine burlesque) are what this crafty King is known for, as well as high energy choreography, theatrical face acts and genital squeezing splits."
D Sasstrus Doe is the stage name of Charlie Bagshaw, a drag king performer and multimedia artist.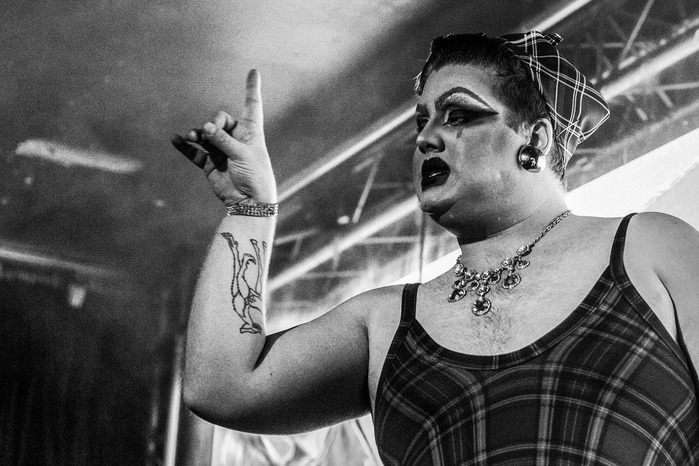 "I don't feel that my drag persona is a different character, but more an extension of myself. I aim to instil the confidence that society so readily rips away from us all due to beauty standards, racism and homophobia to name but a few. With confidence it changes your life completely. Through my performance I want to empower others by fighting for equality, defeating gender stereotypes and be an example of a suicide survivor and mental health activist."
Dominus Von Vexo is the stage name of Danny Phillips, a drag performer and founder of a Birmingham based burlesque and cabaret group.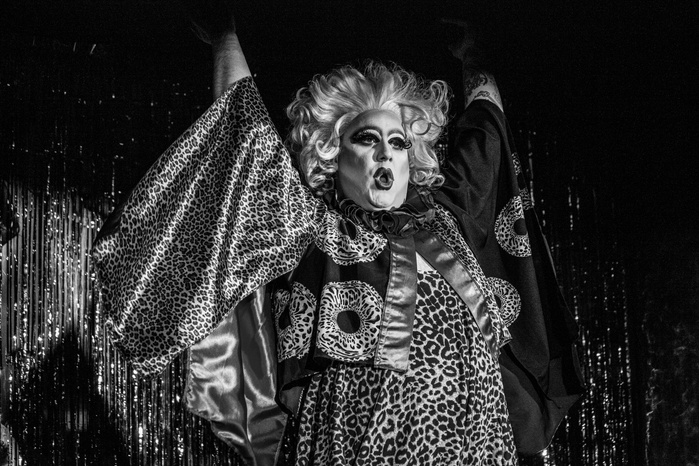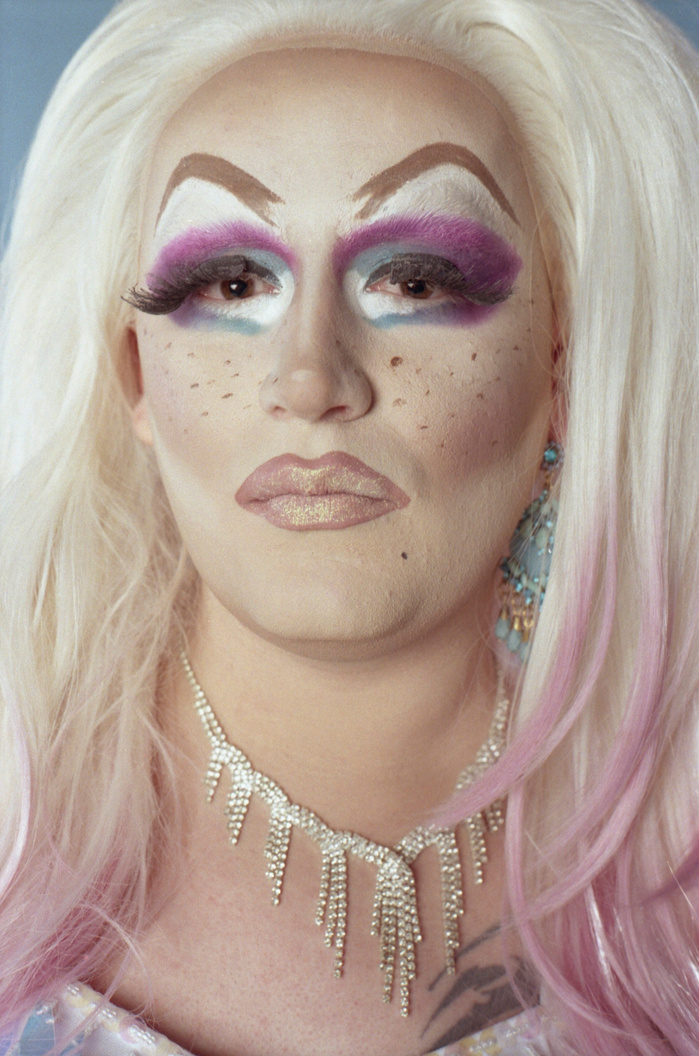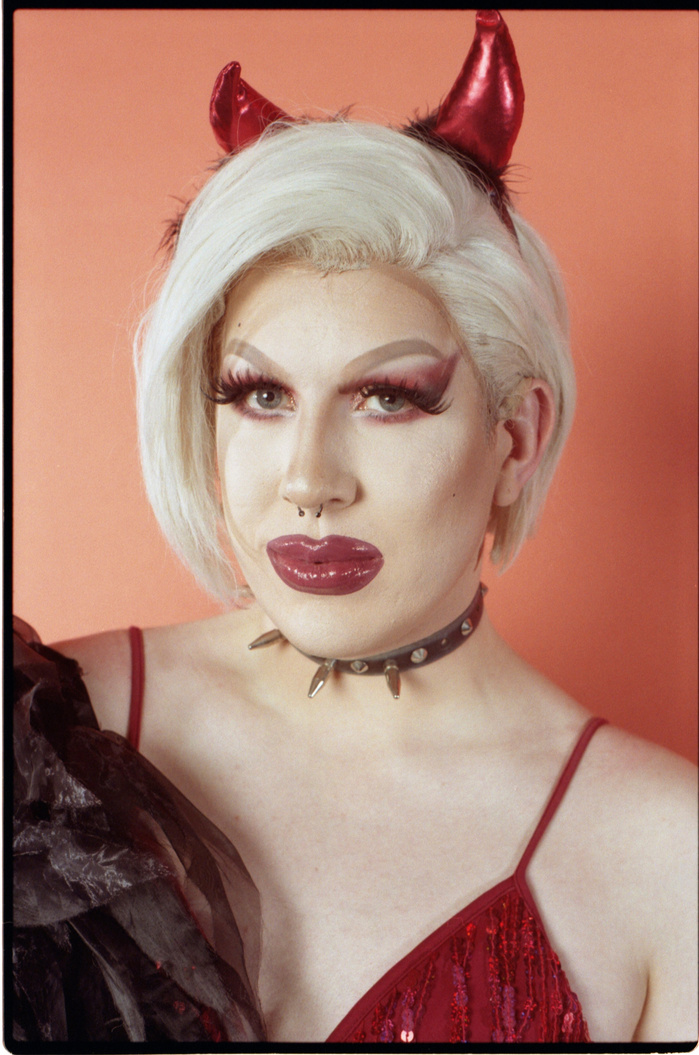 Using simple backgrounds in various colours, I isolate my subjects from their context, giving a twist to the theatrical environment they are accustomed to. I see the studio as a stage without an audience or decor. I experiment with different shades to evoke and communicate a certain mood or message, but also to literally display and visualise the artists' colourful, lively personalities. The colours furthermore represent the rainbow flag that is associated with the LGBTQ+ community.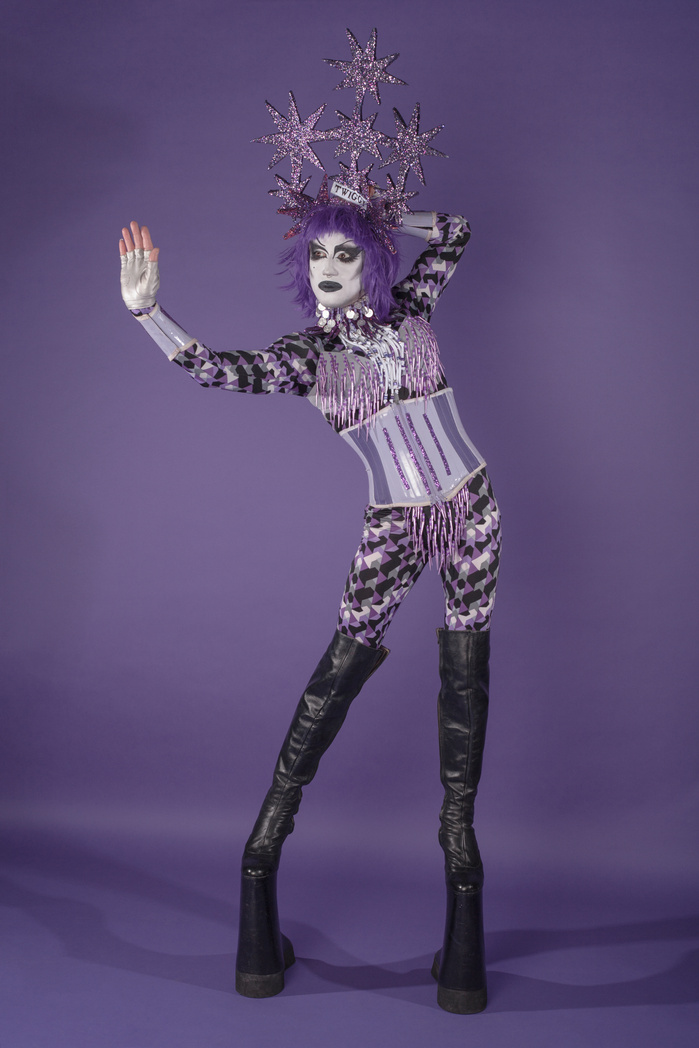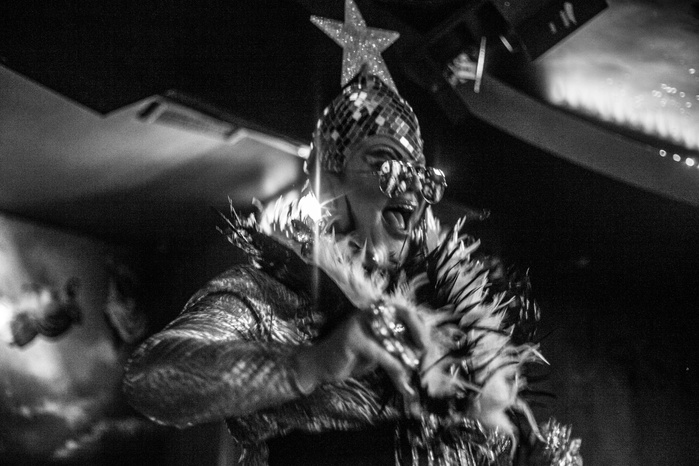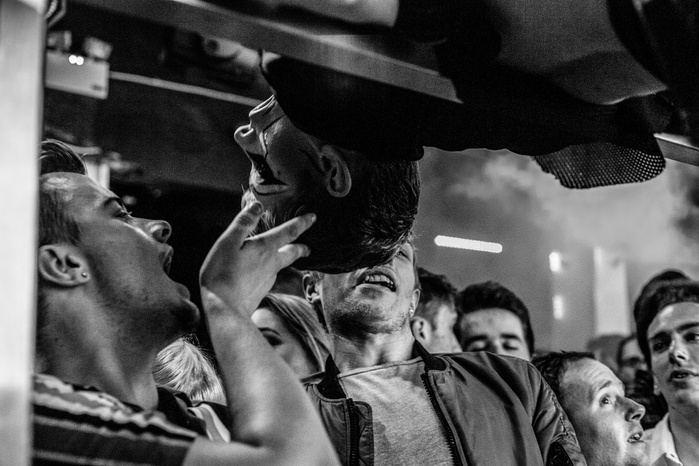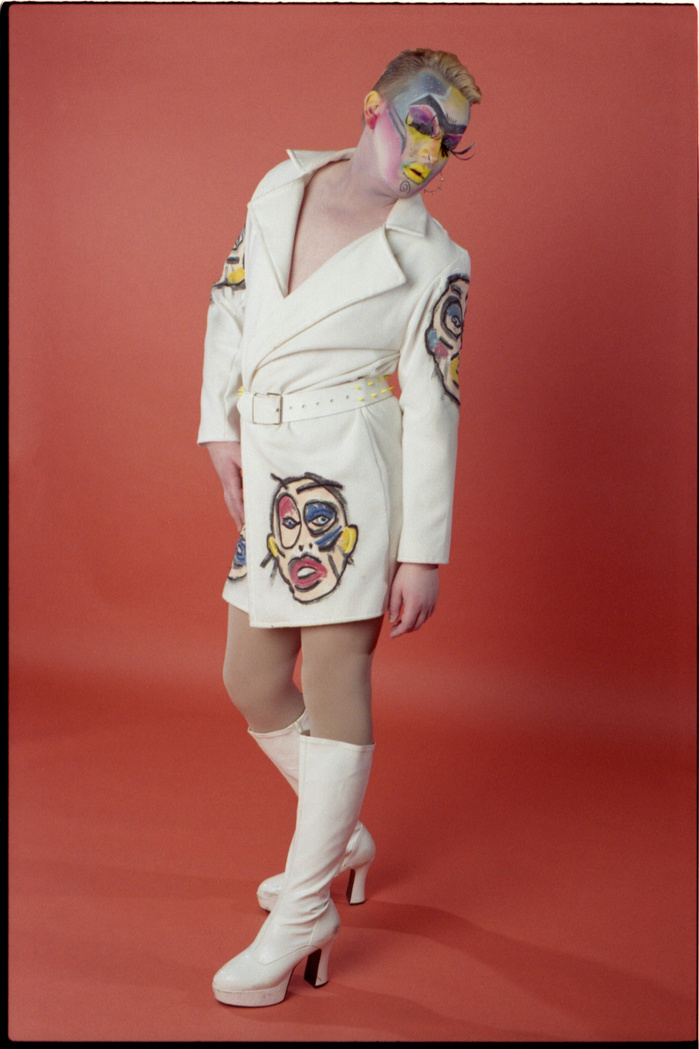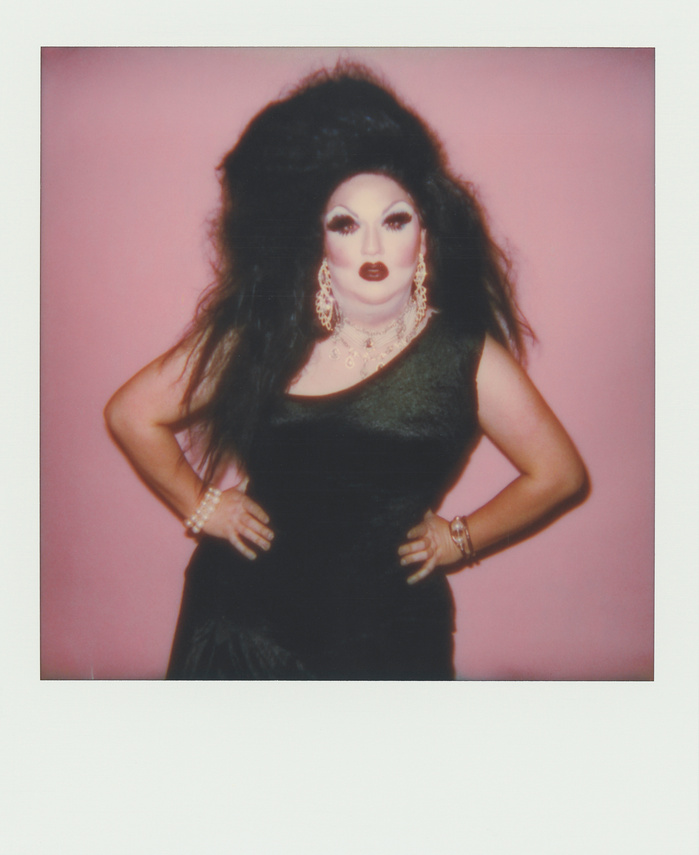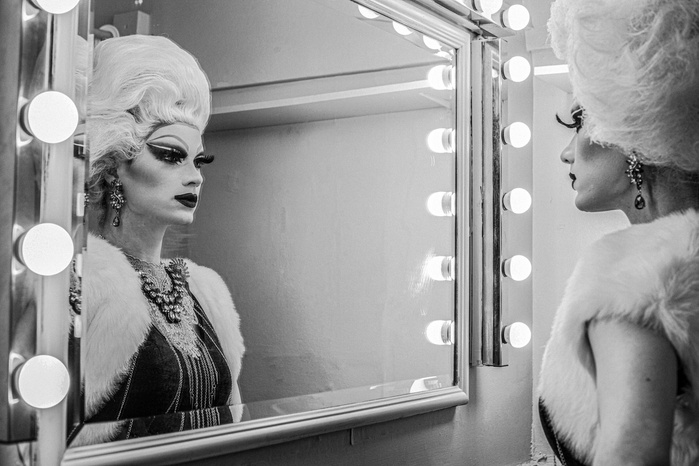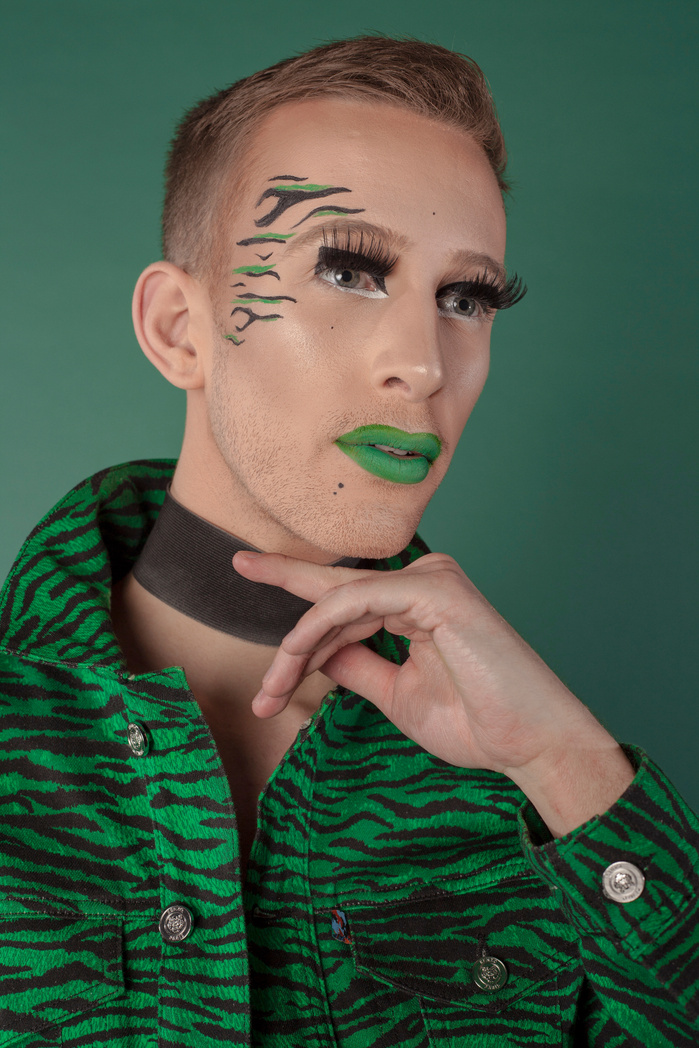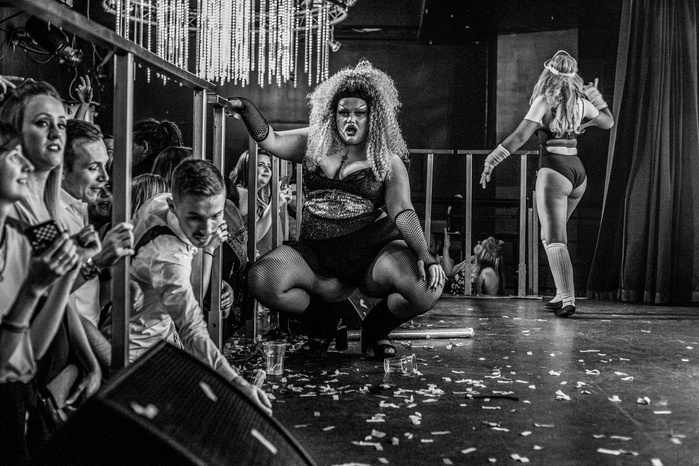 Many thanks to the drag artists involved ↓
Amber Cadavarous
Ambriel Addams
Amy LaQueefa
Anna Nass
Annie Mal
Anthony Scorpia
Ashleigh Marc
Cristal Queer
Cycki Brokat
Dahliah Rivers
Damaris
Divine Miss M
Dixie Pop
Dominus Von Vexo
Dylan / Dee Sasstrus Doe
Effy Raine
Elliott Barnicle
Eva Lution
Ezra Skag
Fred McFannybatter
Ginny Lemon
Jay Andre
Jelly Cube
Jenna Davinci
Jupiter & Minerva
Lilith
Lucius Blac
Mama Mamba
Misty Fye
Paul Aleksandr
Paulette Mii Cherry
Peaches Monroe
Pork Pie
RiiRii LePour
Sasha Forrest
Seana Momsen
Tanja McKenzie
Teal Sparkes
Twiggy