Vivian Maier (New York, 1926–2009) was a mystery, even to those who supposedly knew her. Working as an au-pair in the wealthy suburbs of Chicago, she led a secretive double life. In her leisure she would roam the city streets with her camera, incidentally capturing some of the most interesting and historical sights, peculiarities and facets of Urban America in the post-war golden age. Consistently taking photos over the course of five decades, she would ultimately leave behind an archive of over 100,000 negatives.
She lived and died in obscurity, her images almost disappearing with her if they had not been discovered at a local thrift auction house decades later. That these images would have almost never seen the light of day is seemingly beyond belief, considering Maier is now hailed as one of the greatest 20th Century photographers. With no formal training nor network of fellow artists, the autodidact photographer amassed an astonishing oeuvre easily on a par with famous contemporaries such as Diane Arbus, Robert Frank and Henri Cartier-Bresson.
What drove the American Mary Poppins-like figure of French and Austro-Hungarian descent —who until recently, was unknown, living a quiet and private life— and why did she keep herself and her work so resolutely hidden?
This is the story of the mysterious woman behind the camera.
Although born in America, it was in France that Maier spent most of her youth, giving her an outsider perspective on daily life in the United States. Her parents disappeared from her life relatively early, forcing her to become independent quickly. In 1951 she took up work as a nanny. Though she had a taste of motherhood, she had no children of herself. She wasn't married either, nor had any very close friends. The personal accounts from people that "knew" her—parents who hired her, children she cared for, store owners and curious neighbours who remember her—are all very similar. She was extremely guarded, highly intellectual, eccentric, strong and heavily opinionated. She wore a floppy hat, a long dress, wool coat, men's shoes and walked with a powerful stride. With a camera around her neck whenever she left the house, she obsessively indulged in her devotion to documenting the world around her through pictures, homemade Super 8 film footage and audio recordings. She furthermore assembled, catalogued and archived fragments of the world with news paper clippings, found items, art books, political tchotchkes and knick-knacks. Despite being decidedly unmaterialistic, she would come to own multiple storage lockers, completely stuffing them to the brim with her belongings.
Maier mostly focused on social subjects, portraying everyday street life, its people, objects, billboards and shops display windows. Many of her images and audio recordings from the interviews she conducted in the streets form commentaries on the social injustices she was seeing at the time, showing an affinity for the poor. She documented the lower classes and immigrants, arguably because of an emotional kinship, connection and gravitation she felt with and towards those seen as foreign or as outsiders, and who were struggling to get by.
In 1956 she started working for the Gensburgs, a wealthy family in an upper-class suburb of Chicago who would become her closest family for the remainder of her life. She was given her own bathroom which she turned into a darkroom and allowed her to process her prints and develop her own rolls of B&W film. Around 1959, Maier packed her collection of medium format cameras in a large hard case and set off to travel for a year. She was a free spirit who followed her curiosities. Her thirst to be cultured led her all around the globe, from Thailand to India, Egypt, Yemen, Italy, France, Taiwan, Vietnam, Morocco, Cuba, Canada and the Philippines.
After the three Gensburg boys she cared for had entered adulthood in the 1970's, Maier was forced to seek work with other families. As a result, she was no longer able to develop and print her film, and her archive started to pile up. It was around this time that she decided to switch to colour photography, shooting mostly 35mm Kodak Ektachrome. In the 1980's Maier would face another challenge with her work. Financial concerns and the absence of a permanent address eventually forced her to put aside her cameras and to place her belongings in storage while she tried to keep afloat. She became poor, eventually bouncing from homelessness to a small studio apartment the Gensburg boys she had nannied earlier in her life paid for. Fondly remembering Maier as their second mother, they pooled together to find her a home and took the best of care for her. Unbeknownst to them, one of her storage lockers was auctioned off due to delinquent payments and the massive hoard of negatives she had secretly stashed throughout her lifetime gradually sank into oblivion.
Her belongings were auctioned off to settle debts in 2007 and came into the possession of local historian and collector John Maloof, who had it further investigated. Encapsulated by the incredible quality and breadth of Maier's archive, he began collecting roll upon roll of undeveloped film, revealing the images that were kept hidden from the outside world. In 2008, Maier fell on a patch of ice and hit her head in downtown Chicago. Although she was expected to make a full recovery, her health began to deteriorate, forcing her into a nursing home. She sadly passed away a short time later in April of 2009, impoverished and anonymous, yet leaving behind an immensely rich and valuable body of work. Though she may never have intended her images to be seen by anybody, they are now part of a renaissance in interest in the art of Street Photography, and have been widely exhibited and published for the enjoyment of others and future generations.
__________________________________________________________________________________________________________
Works In Color | Exhibition at FOAM 1 June - 13 September 2020
I have wanted to see Maier's work in person for ages, so I was very excited when FOAM announced they were exhibiting a part of her collection. I am especially fond of her colour photographs, and this exhibition happened to showcase exclusively those, with more than 65 images spread across different rooms.
There was a special space dedicated to her signature series of self-portraits. Similar to her street scenes, Maier liked to experiment with her own image and how this was reflected in or fragmented by mirrors and shop windows. She also made use of her shadow, at times briefly appearing in and casting across other people's lives. By putting herself in the image, she sought to relate to the world around her and her own role therein. I think this also explains why I am drawn to capturing myself in reflective surfaces. When I was around 16 years old, I started my own archive of self-portraits (see image set below). This was before I even knew anything about photography, let alone Maier's work.
There was a small mirror on one of the gallery walls for visitors to take a selfie with in true Maier style. I couldn't help but take advantage of this opportunity, of course.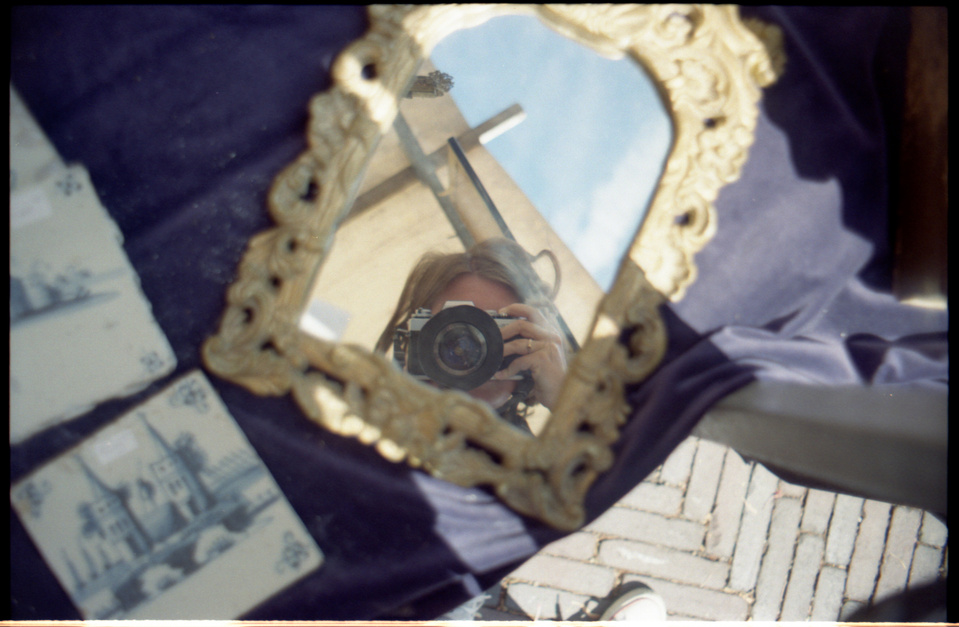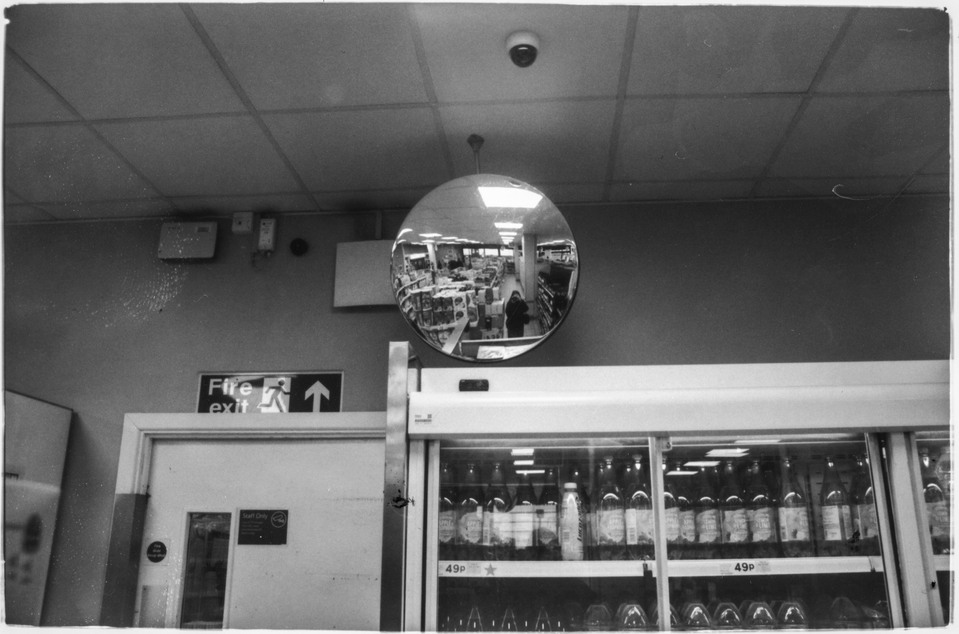 It said in one of the timelines about her life that in 1943, she worked at Madame Alexander Doll Factory which made lifelike baby dolls. This really stuck with me as I feel like it could explain one of her other interests and photographic subject matters; mannequins (which yet again fascinate me too).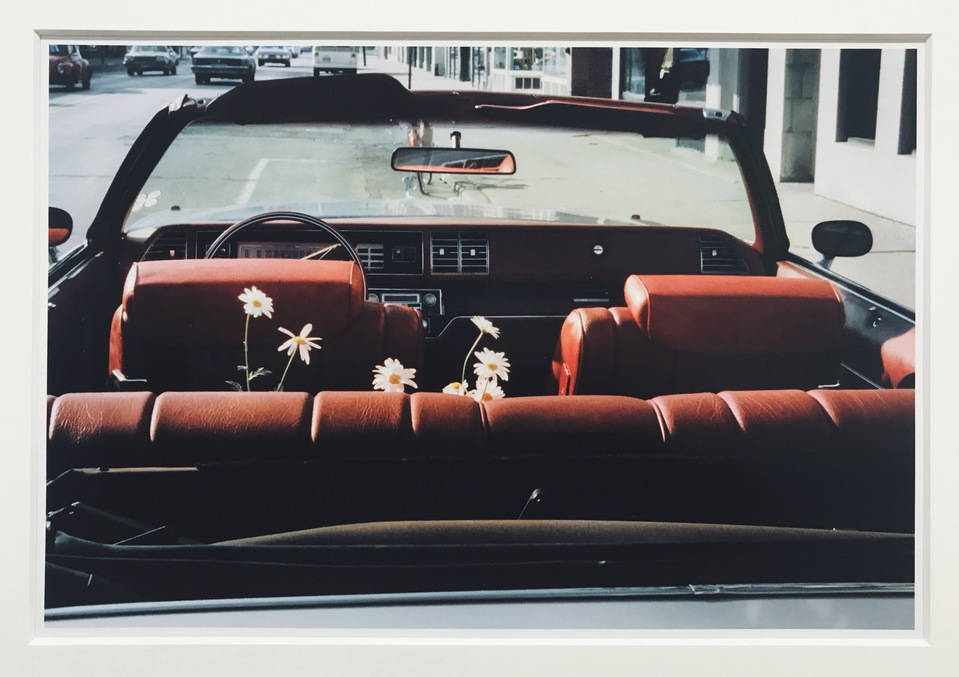 I thought the exhibition was nicely put together and well selected. I left the gallery with a new outlook on Maier and her work. I also took home two postcards from the museum shop.

To finish this writeup, I am sharing a few pages from my photo book 'Vivian Maier: Street Photographer', to show a selection of some of my favourite black and white images.
Pages: 128
Year: 2011
Publisher: Power House
Size: 28,7 x 25,8 cm